Susanne George, MT, ASCP
Lab
Olin Health Center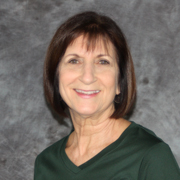 Medical Technologist/ Clinical Laboratory Scientist
Meet Susanne
Susanne grew up in Rogers City, MI. A passion of hers is learning about how to be healthy by living a healthy lifestyle inside and out and teaching others to do the same. She enjoys skiing, hiking, and snowshoeing. She and her husband Terry have been married for 36 years. They have three children, one girl and two boys who live in Chicago, Hawaii, and Portugal.
Susanne has been working at Olin since August of 2013.
Education: 
Michigan State University, B.S., Medical Technology, 1976
Professional Interests include: 
Satisfaction from knowing that diagnostic results are helping keep the MSU community healthy and thriving

Electronic Medical Record Consulting
Assisting medical staff to navigate through new EMR's eases their anxiety and gives her fulfillment.
---